You can apply for Aadhar card online. Aadhar Card is a very important Identity Proof. If any of you have not created Aadhar Card yet or you have to make an Aadhar card for your family or friends, then you do not need to go anywhere. Aadhar Card Registration can now be done online now. You can apply online aadhar card easily. Complete the process by following the simple steps given below.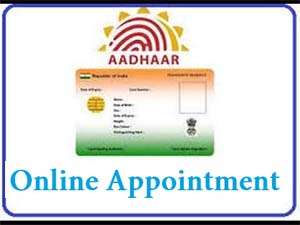 How To Apply Online Aadhar Card
It is not possible that the complete process of applying Aadhar Card Registration will be done online. But there are still plenty of things that can be done online, which saves us a lot of time. To make Aadhaar card, first of all we have to do is take Aadhaar Enrollment appointment.
With this we can also find our nearest Aadhar Enrollment Center online.
How to take Aadhaar Enrollment Appointment
Step 1:  First of all visit official site https://appointments.uidai.gov.in/.
Step 2: This will give you the Appointment for Aadhaar Enrolment form which you have to fill. First, enter your name, email id, mobile number in the box.
Step 3: After that, in the second box we have to choose Enrollment Center beside us, for that we have to enter our state, district and area first. Then move to next step.
Step 4:  After this, choose the time and date for the appointment in the third box at your convenience.
Step 5: Now by entering the verification code, click on the Fix Appointment button. By doing this you will get the token id of Appointment.
How to find your nearest Aadhar card Enrolment Center
To apply for Aadhar Card online, first you must also know the nearest center to you.
Step 1: To find out, visit Aadhaar Center form https://appointments.uidai.gov.in/easearch.aspx.
Step 2: Enter the details in this form according to your address. Move to next step.
Step 3: After this, like you click on the Search button, you will get a phone number of your area along with the details of the Aadhar Card Enrolment Center.
After completing this process of appointment for Online Aadhar Card Registration, you will be able to make your Aadhaar card by taking the necessary documents and going to your nearest center.
Documents Required To Make Aadhar Card
2 Passport Size Photo.
Your Identity Proof such as Driving Licence, Pan card etc.
Your address proof such as electricity bill, ration card or water bill.
You will have to visit with all these necessary documents, and then the officer will complete all the work ahead. After the complete this process , you will get a slip, which will have Enrollment Id. Keeping this in mind, it will be necessary to know the status of our Aadhar card and to download the Aadhar card.
For further information visit: http://www.awasyojanajaipur.com