Recently, Uttar Pradesh government has started a pension scheme. The name of this scheme is Samajwadi Pension Yojana. The main aim of this scheme is to provide financial help to those people who are economically weak, live in rural areas as well as they are below the poverty line.
The UP government started this scheme on 28th February 2014. It is hope of society that this new pension yojana will take place of Rani Laxmi Bai Pension Yojana and more than 40 lakh people will get benefit of this scheme.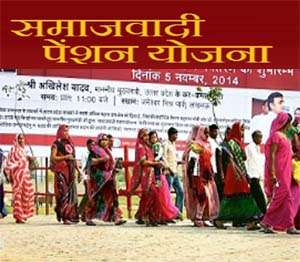 Eligibility For Samajwadi Pension Yojana
sspy-up.gov.in
Any family which is below the poverty line can also apply online for this scheme.
Family should be residence of Uttar Pradesh and it should also have a valid residence proof.
As well as the applicants must have account in State Bank Of India or any other Indian Bank.
Person who is giving income tax is also not eligible for this scheme.
Government employee is also not eligible for this pension scheme.
Children from the age group of 6 to 14 years of age should also get enrollment in government school. They should also have 70% attendance.
If  family is illiterate then the government will make them part of National Literacy Mission.
Children whose age is less than 5 years should get vaccination in government hospitals.
Samajwadi Pension Yojana Apply Online Application Form 2018
Form of this scheme is also available on official site of UTtar Pradesh http://sspy-up.gov.in/. Visit this website and also apply here by creating account of samajwadi pension yojana. If you are interested in this scheme, then follow the given instructions-
Firstly login from here http://sspy-up.gov.in.
Click on option download form of Samajwadi Pension Yojana.
Fill this form carefully as well as attach all the required documents.
After this upload the form and also make online account of Samajwadi Pension Yojana.
Details You Have To Maintain In SSPY Form 2018
Name of applicant
Age discription
Father's / Husband's name
Residence Name
Details of Block
Post-office description
Description of gram panchayat
Caste description
UP government has taken a great step to provide some financial help to the poor as well as needy people of Uttar Pradesh. Everyone can easily apply for this scheme. It is easy to apply for this scheme than another schemes. In this scheme, Scheduled Castes as well as Scheduled Tribes will get preference.  The amount of 45% has been also allocated to families belonging to the OBC category.
District wise Sawajwadi Pension Yojana List 2016-17
SSPY up gov in 2016
Meerut
Shamli
Baghpat
Saharanpur
Ghaziabad
Muzaffarnagar
Hapud
Amroha
Moradabad
Bijnor
Bulandshahr
Sitapur
Lakimpur khi
Amethi
Barabanki
Sultanpur
Rampur
Bareilly
Safe
Pilibhit
Ambedkar Nagar
Faizabad
Deaf
Shravasti
Balrampur
Gonda
slum
Badayun
Shajhumpur
Aligarh
Hathras
Eta
Soft
Kasganj
Agra
Mathura
Firozabad
Mainpuri
Farrukhabad
Kannauj
Etawah
Another
Kanpur urban
Kanpur
Jalon
Lalitpur
Banda
Hamirpur
Mahoba
Jhansi
Lalitpur
Chitrakoot
Fatehpur
Siddhartha Nagar
Lucknow
Sant Kabir Nagar
Gorakhpur
Kaushambi
Maharajganj
Kushinagar
Unnao
Deoria
Azamgarh
Hardoi
Baliya
Ghazipur
Chandauli
Varanasi
Allahabad
Jaunpur
Bhadohi
Pratapgarh
Amethi
Rae Bareli
Sitapur
Mirzapur
Sonbhadra
Lakimpur khi
For further detials you can also visit: http://www.awasyojanajaipur.com